About this project
We have manufactured and installed fitted healthcare, clinical, office and reception furniture at the brand new Cedar Veterinary Group in Alresford, Hampshire, in a contract worth just over £33,000.
"I'd assumed that specialist healthcare furniture would be very expensive, as anything specifically for hospitals often is, but it turned out that David Bailey's proposed solution was very good value indeed." Charlie Mitchell, managing director, Cedar Veterinary Group.
Furniture installed
Because this was a brand new build, furniture for the whole building was required. We manufactured and installed fitted furniture in the following areas:
4 consulting rooms
2 operating theatres
Dog & cat wards
Laboratory
Preparation rooms
Office areas
Admin rooms
Surgery reception area
In total we manufactured:
62 metres of worktop
45 base units
22 wall units
4 tower units
2 lockers
New reception counter
Project details
See videos of the furniture at Cedar Veterinary Group
Cedar Veterinary Group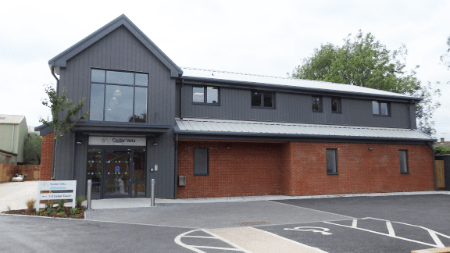 The Cedar Veterinary Group was first established in Alresford, Hampshire, in 1893. It then expanded to Alton in 1923 and then to Four Marks in 1985. Its three Hampshire surgeries treat pets and horses, offering a wide range of services, including an operations suite, keyhole surgery, dental work, an in-house laboratory where blood and other tests are carried out, as well as digital radiography and diagnostic equipment, allowing the vets to examine and diagnose conditions quickly.
The existing surgery at Alresford was old and had become too small for the expanding group and a new site was found where a new, purpose built surgery could be built from scratch. This was completed in April 2019 and is a large, impressive, two-storey surgery standing in its own grounds in the middle of Alresford. The contractor for the new build was Arun Projects of Eastleigh, Hampshire.
Charlie Mitchell, managing director at Cedar Veterinary Group explained why the new build was necessary:
"Our business has been growing over the last ten years and we needed more space and more equipment to meet the needs of our expanding customer base. The new surgery at Alresford has been bespoke built to our specifications and allows for future expansion and will attract customers from areas further afield, such as Winchester."
Searching for veterinary furniture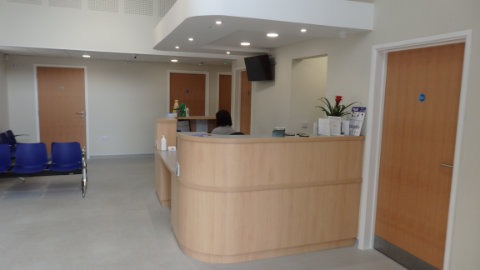 Initially, Cedar Vet Group went to a builder's merchant for designs for the furniture they needed throughout the new surgery in Alresford. It soon became clear to Charlie however, that the units supplied were mainly just normal domestic kitchen units. "We wanted more bespoke furniture, better quality and suitable for a clinical environment," he said. At this point Cedar Group went to a project management company who specialised in the veterinary sector, to make sure their plans and designs were along the right lines and that there were no glaring errors. The project management company gave them some names of manufacturers specialising in veterinary and clinical furniture; we were included on that list.
"We contacted the furniture manufacturers but some of them struggled to come back to us," commented Charlie. "But David Bailey Furniture Systems came back to us with prices and ideas and then worked with us to design a solution which exactly matched our specific requirements and dimensions. The David Bailey website showed us exactly what we'd get and everyone there was really helpful, right from the very first contact. They came out to visit the new site a couple of times to show us samples and run through the plans and the schedule."
Why we were selected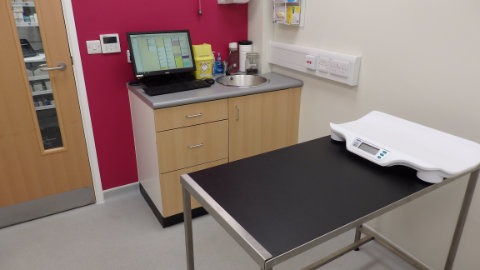 "I'd assumed that specialist veterinary furniture would be very expensive, as anything specifically for hospitals often is, but it turned out that David Bailey's proposed solution was very good value indeed," continued Charlie. "Another plus point in David Bailey's favour was that they could do the whole build, to include furniture for the offices and reception area as well as the clinical areas."
Veterinary furniture colour scheme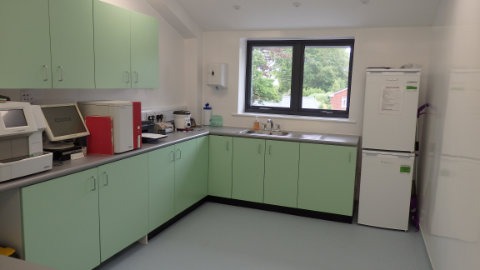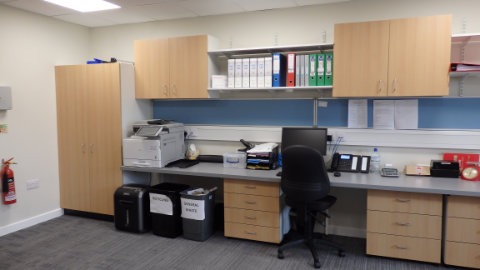 In the clinical areas of the practice we provided green-fronted units with grey, bullnose worktops, and in the office and admin areas we provided beech effect fronted units with grey worktops.
Results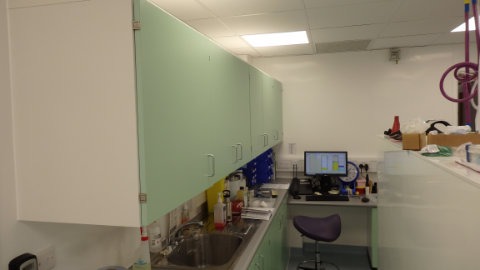 The final installation took place in April this year and took seven to ten days in total, over two or three visits.
"David Bailey were very easy to communicate with," concludes Charlie. "They gave us the time we needed, the installation was conducted very professionally and the finish quality is excellent. They delivered what they said they would deliver in the timescales they'd promised and I'm very happy with the end result."
Cedar Veterinary Group furniture – where to find out more
Are you specifying fitted furniture for a veterinary practice or hospital? See short videos of our furniture being made and read testimonials from other architects, contractors and customers about working with us.
You can see our range of veterinary furniture here.
Or please get in touch with us to discuss a project. You can also call us on 01843 604896.
Read our blog "Does interior design matter in a veterinary clinic?"