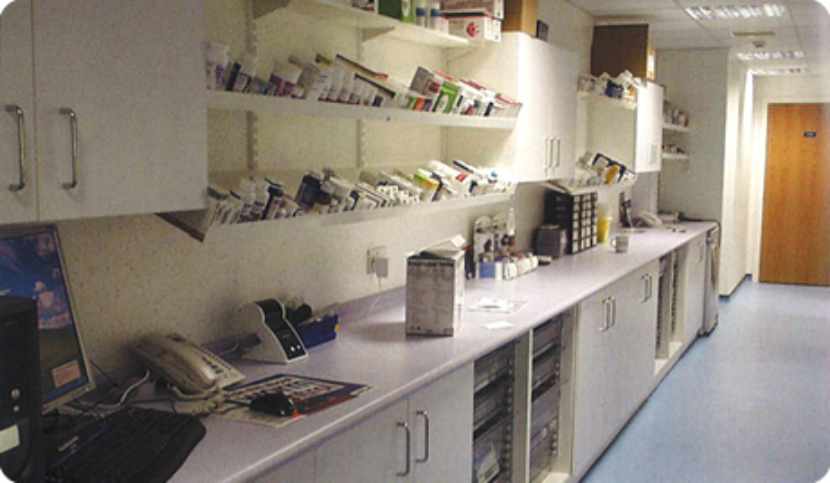 Veterinary surgeries can now buy direct
David Bailey Furniture Systems now provides veterinary furniture direct to veterinary surgeries. Already six vets from across the country have been fitted with veterinary furniture to the value of £25,000.
The vets – City Vets in Belfast, Robson & Prescott Vets in Northumberland, Heathside Vets in Southampton, Churchview Vets in the Wirral and Cinque Ports Vets and Margett & Luck Vets who are both in Kent – have all been fitted with white storage units with speckled grey worktops, marking David Bailey's first venture as a veterinary furniture manufacturer and supplier.
Trevor Gillman, Managing Director of David Bailey said: "We know that times are tough and budgets have been cut, meaning that customers are looking for value for money as well as exceptional customer service. Supplying veterinary furniture directly to our customers and cutting out the middleman, enables us to pass the reduced costs onto our clients. We can also guarantee deliveries within four weeks. This also means that David Bailey has complete control of the manufacturing process, delivery and installation."
David Bailey has also supplied veterinary furniture to the veterinary charity the People's Dispensary for Sick Animals (PDSA) for many years including Croydon, New Cross, Basildon and Romford, to name but a few.
David Bailey's Healthline range of fitted furniture offers robust wall and base storage units and easy-clean worktops and shelving available in a range of colours and finishes. The range has been specified by contractors and specifiers for a broad range of healthcare establishments including hospitals, doctor's surgeries, health centres and nursing homes.
Veterinary furniture direct – where to find out more
At David Bailey Furniture Systems, we supply and install fitted veterinary furniture from our extensive range. We manufacture a wide range of furniture for veterinary practices, including reception desks, storage furniture, worktops and mobile furniture. See our veterinary furniture range here.
Read a case study about a furniture contract we carried out for Cedar Veterinary Group in Hampshire, who were building a brand new veterinary clinic.
Download our veterinary furniture range brochure. Or please get in touch if you'd like to talk to us about how we may help design and install furniture in your veterinary practice.