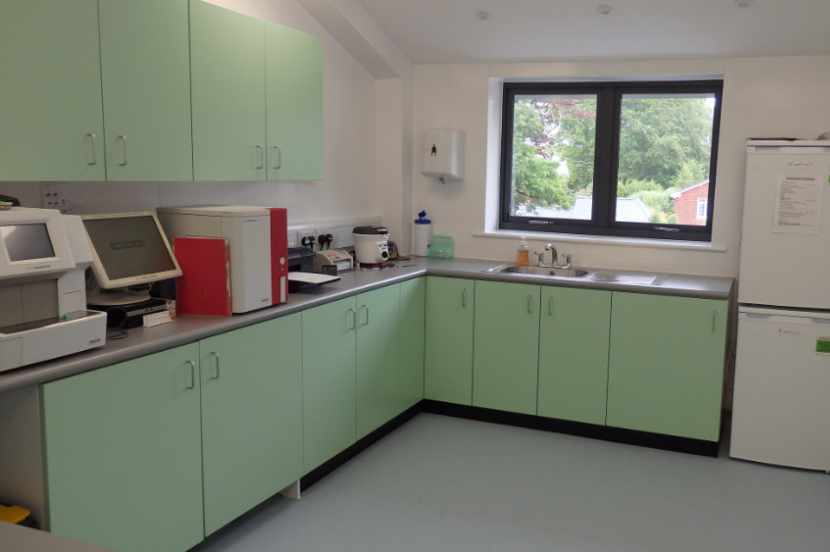 Veterinary equipment you need when setting up a new clinic
Setting up a veterinary clinic is an exciting process. There's a lot to manage, but the rewards are great, and the gratitude of animals and their owners make the initial heavy lifting worthwhile.
As with all specialist facilities, veterinary practices have their own unique needs. Each element must be carefully planned, from the interior design to the equipment, the booking system, and additional services. New clinics want to start strong and competitive—first impressions matter.
On the David Bailey Furniture Systems blog, we've talked about the importance of interior design, animal-friendly waiting room features and how veterinary clinics can introduce additional revenue streams on top of their veterinary services. To complement these insights, we'll now focus on the veterinary equipment clinics need to get their new venture off the ground.
Examination tables
The absolute basic necessity is the examination table where veterinarians can examine animal patients and assess their needs. As animals come in a range of different shapes and sizes, you may need a range of appropriate tables. Consider lift tables, hydraulic and electric tables and v-top tables.
Procedure tables
As above, your procedure tables are the veterinary staple to treat animals. The same lift tables, hydraulic and electric tables and v-top tables can be considered depending on the clinic's needs. Health standards should apply to the tables used to ensure they're easy to wipe down and eliminate germs.
Stethoscopes
Veterinary practices require specialised veterinary stethoscopes as a standard to easily listen to heartbeats and breathing patterns.
IV pumps
Whether it's for hydrating patients or administering drugs or supplements, IV pumps are a staple in the clinic for automatically timed dosages.
Disinfectors and sterilisers
Sterile work environments are an absolute must in any clinic, and the disinfecting and sterilising equipment you use helps to guarantee these standards are met. These tools use steam to sterilise equipment, making them free from harmful substances but completely safe and contamination-free.
Cupboards and storage furniture
Storage cupboards and furniture solutions matter in the clinic. Just as your tables need to be made to meet HTM 63, HTM71 & HTM 64 standards, so too should your worktops and storage furniture. David Bailey Furniture meets HTM standards for units, specialist storage, accessories and storage stations for consumables and equipment.
Lighting
Flexible lighting solutions specially designed for veterinarians are essential to help vets get up close with animals to see what's happening between fur, under legs or in mouths. Examination lights are a must, and bright surgical lights are recommended if surgery is to take place in the clinic.
Cauteries
Speaking of surgery, if it is going to be performed on-site, a cauterising machine will be essential for sealing wounds.
Anaesthetic equipment
Anaesthetic equipment is not only a must for surgeries, but it can also be a helpful tool if patients need to be calmed for examinations and non-invasive treatments.
Ultrasounds
Not all clinics will decide to purchase diagnostic imaging equipment, but it is worth considering as a possible tool to support your work in the clinic. There are also portable scanners that may be more suitable for veterinarians that do house calls.
X-ray machine
Similarly to the ultrasound equipment, an x-ray machine may not be a necessity for all practices, but it does help to keep animal treatment under one roof for better patient care.
Setting up a veterinary clinic
To help with your new veterinary clinic set-up, contact the David Bailey Furniture Systems team to get HTM 63 & 71 standard furniture that keeps your clinic clean and operating at peak performance. You can also read case studies of vet practices that already use our furniture.
Pictured above: The laboratory at Cedar Veterinary Group. Read the case study here.